High-Quality, Spacious, and Relaxing, All for a Reasonable Price!
It was our wish to provide inexpensive, comfortable lodging for people who want to enjoy Matsue longer,
or use Matsue as a base to explore more of Shimane.

And this is how Cubic Room came to be.

It's not just inexpensive. It's a place to relax comfortably and enjoy your stay
in an area that offers you all the ideas and amenities you need to get the full Matsue experience.
Cubic Room is a simple, capsule-type lodging available at Matsue Urban Hotel's Building #2.
It looks like a business hotel from the outside, and since the Cubic Room area is one part of the hotel, checking in and checking out are all taken care of at the front desk.
As the system is really no different from that of any hotel, you will have no difficulty using our facilities.
Cubic Room's Special Considerations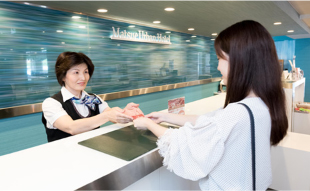 Check-in & Check-out
You can check in and check out at the front desk located in building #1. So if at any time you have trouble, our friendly staff at the front desk will be there to help you.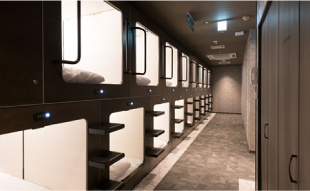 Men's Floor・Women's Floor
In an effort to wipe away the old image of capsule hotels, we have set up separate floors for men (2F) and women (3F). To provide our guests with security and peace of mind, only the card keys issued to our guests will open the floor you will stay on.
*The picture is of the Men's Floor (2F).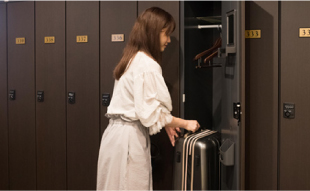 Fully-Equipped Locker Rooms
Each floor has lockers for all of our Cubic Room guests. They are large enough to fit carry-on baggage, so there is no need to take your baggage to your Cubic Room.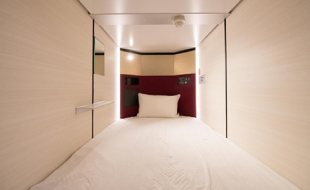 Mattresses
We wanted to make our rooms as comfortable to sleep in as possible, so all of our Cubic Rooms use high-density foam mattresses made by a high-quality domestic manufacturer.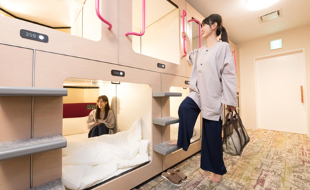 Alternated Booths
The lower and upper rooms are slightly alternated from each other, giving you greater ease in entering and leaving your Cubic Room, and reducing any noise from the surrounding rooms.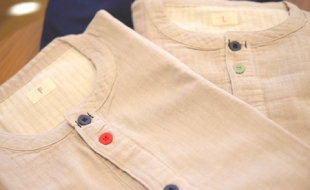 Room Wear
We have provided you with room wear that you can use during your stay. The fabric has been chosen to give our guests the greatest amount of comfort.
*The shirt in the forefront is the women's shirt, and the shirt in the background is the men's one.
USB Ports are located in the following areas:
◎Each Cubic Room
◎2F Free Space (Wall)
◎3F Powder Corner (Tables)
◎3F Hallway Free Corner (Tables)
Dial-Combination Security Boxes in all Cubic Rooms
※A USB port and outlet are located above the security box
TV –Furnished Cubic Rooms
On both the men's and women's floor, there are 5 Cubic Rooms furnished with TVs.
Baggage Check Service
If your baggage is too large to fit in your locker, you can check it at the front desk.
Breakfast Buffet
We provide a Japanese-style breakfast buffet at the restaurant on the second floor of building #1
It is available to our overnight guests for only an additional \740.
※Please make a reservation when you check in.
Breakfast Buffet>
Public Space
The restaurant in building #1 can be used as a public space following the end of breakfast. You can eat and drink here, so please feel free to use this area.
Rental Bicycles
Matsue is a city made for cycling. Please use our bicycles for sightseeing or shopping. There is no charge to our overnight guests.
※You cannot reserve a bicycle.
Please select your preferred plan and floor.